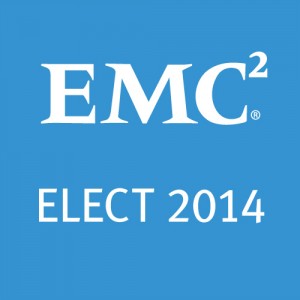 I'm rather pleased to say I've been included for the second year running in the EMC Elect programme. Last year was the first time the programme was run and while at times my schedule prevented full participation, I've got to say it was an excellent community to be part of.
It's fair to say I stay fairly focused on backup and data protection in general – it's a niche area within a niche area, which sometimes creates interesting headaches, but one thing I can be guaranteed on is that EMC remains committed to getting as much information out into their various product communities as possible. It's almost invariably the case that if you look, you'll find it.
Elect gives me the opportunity to see more than just backup and recovery. Last year, for instance, I was lucky enough to get to see the VNX MCx Speed2Lead launch live, in Milan. The trip itself was as fast as the products at the launch … from Australia to Italy and back again in under a week meant for a lot of time on planes. A lot. But it was worth it to see live how invested EMC are in their products. Yes, there was criticism of the event, but I stand by my response to that criticism: the storage industry as a whole is too often seen as the "boring" part of the entire IT industry, and it's refreshing to see a company encouraging their employers, their users and their partners to be proud of what they're doing.
I'm looking forward to seeing what EMC Elect 2014 brings, and hope to engage a lot more than I found time for last year – the rewards of being connected to a community of experts are obvious!
***
To see a comprehensive list of the EMC Elect 2014 members (well, certainly those on Twitter), check out this EMC Corporate list.
Addendum – the full official list is over at the EMC Community Network.