The NetWorker usage survey for 2016 has just finished. One of the questions I asked in this most recent survey was as follows:
Has your business been struck by ransomware or other data destructive attacks in the past year?

(_) Yes

(_) No

(_) Don't know

(_) Prefer not to say
With the survey closed, I wanted to take a sneak peek at the answer to this question.
Ransomware, as many of you would know, is the term coined for viruses and other attacks that lead data erased or encrypted, with prompts to pay a 'ransom' in order to get the money back. Some businesses may choose to pay the ransom, others choose not to. If you've got a good data protection scheme you can save yourself from a lot of ransomware situations, but the looming threat – which is something that has already occurred in some instances – is ransomware combined with systems penetration, resulting in backup servers being deliberately compromised and data-destructive attacks happening on primary data. I gave an example of EMC's solution to that sort of devastating 1-2 punch attack last November.
Ransomware is not going away. We recently saw massive numbers of MongoDB databases being attacked, and law enforcement agencies are considering it a growing threat and a billion dollar a year or more industry for the attackers.
So what's the story then with NetWorker users and ransomware? There were 159 respondents to the 2016 NetWorker usage survey, and the answer breakdown was as follows:
No – 48.43%
Don't know – 11.32%
Prefer not to say – 9.43%
Yes – 30.82%
An August 2016 article in the Guardian suggested that up to 40% of businesses had been hit by ransomware, and by the end of 2016 other polls were suggesting the number was edging towards 50%.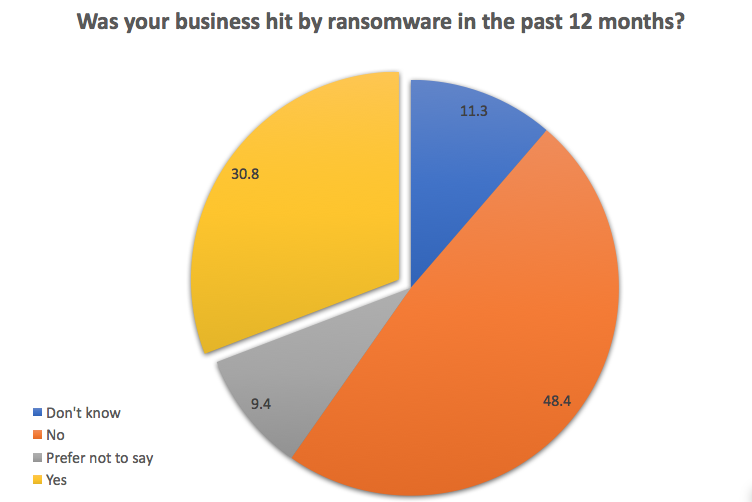 I'm going to go out on a limb and suggest that at least 50% of respondents who answered "Prefer not to say" were probably saying it because it's happened and they don't want to mention it. (It's understandable, and very common.) I'll also go out on a limb and suggest that at least a third of respondents who answered "Don't know" probably had been but it might have been resolved through primary storage or other recovery options that left individual respondents unaware.
At the very base numbers though, almost 31% of respondents knew they definitely had been hit by ransomware or other data-destructive attacks, and with those extrapolations above we might be forgiven for believing that the number was closer to 38.9%.
The Guardian article was based on a survey of Fortune 500 senior IT executives, and ransomware at its most efficacious is targeted and combined with other social engineering techniques such as spear phishing, so it's no wonder the "big" companies report high numbers of incidents – they're getting targeted more deliberately. The respondents on the NetWorker survey however came from all geographies and all sizes, ranging from a few clients to thousands or more.
Bear in mind that being hit by ransomware is not a case of "lightning never strikes twice". At a briefing I went to in the USA last year, we were told that one business alone had been hit by 270+ cases of ransomware since the start of the year. Anecdotally, those customers of mine even who mention having been hit by ransomware talk about it in terms of multiple situations, not just a single one.
Now as much as ever before, we need robust data protection, and air-gapped data protection for sensitive data – the Isolated Recovery Site (IRS) is something you'll hear more of as ransomware gets more prevalent.
NetWorker users have spoken – ransomware is a real and tangible threat to businesses around the world.
I'll be aiming to have the full report published by mid-February, and I'll contact the winner of the prize at that time too.