With just a few more days of 2017 left, I thought it opportune making the last post of the year to summarise some of what we've seen in the field of data protection in 2017.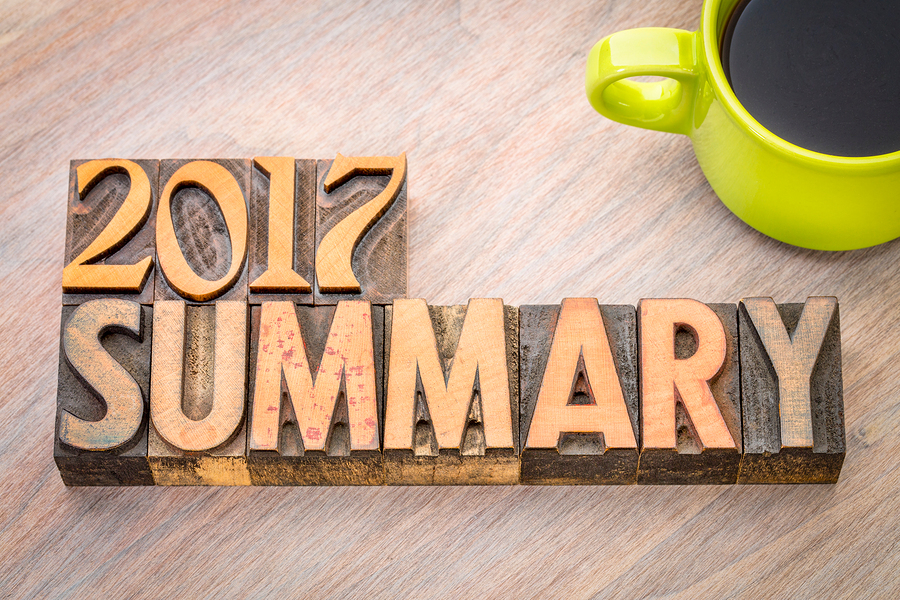 It's been a big year, in a lot of ways, particularly at DellEMC.
Towards the end of 2016, but definitely leading into 2017, NetWorker 9.1 was released. That meant 2017 started with a bang, courtesy of the new NetWorker Virtual Proxy (NVP, or vProxy) backup system. This replaced VBA, allowing substantial performance improvements, and some architectural simplification as well. I was able to generate some great stats right out of the gate with NVP under NetWorker 9.1, and that applied not just to Windows virtual machines but also to Linux ones, too. NetWorker 9.1 with NVP allows you to recover tens of thousands or more files from image level backup in just a few minutes.
In March I released the NetWorker 2016 usage survey report – the survey ran from December 1, 2016 to January 31, 2017. That reminds me – the 2017 Usage Survey is still running, so you've still got time to provide data to the report. I've been compiling these reports now for 7 years, so there's a lot of really useful trends building up. (The 2016 report itself was a little delayed in 2017; I normally aim for it to be available in February, and I'll do my best to ensure the 2017 report is out in February 2018.)
Ransomware and data destruction made some big headlines in 2017 – repeatedly. Gitlab hit 2017 running with a massive data loss in January, which they consequently blamed on a backup failure, when in actual fact it was a staggering process and people failure. It reminds one of the old manager #101 credo, "If you ASSuME, you make an ASS out of U and ME". Gitlab's issue may have at a very small level been a 'backup failure', but only in so much that everyone in the house thinking it was someone else's turn to fill the tank of the car, and running out of petrol, is a 'car failure'.
But it wasn't just Gitlab. Next generation database users around the world – specifically, MongoDB – learnt the hard way that security isn't properly, automatically enabled out of the box. Large numbers of MongoDB administrators around the world found their databases encrypted or lost as default security configurations were exploited on databases left accessible in the wild.
In fact, Ransomware became such a common headache in 2017 that it fell prey to IT's biggest meme – the infographic. Do a quick Google search for "Ransomware Timeline" for instance, and you'll find a plethora of options around infographics about Ransomware. (And who said Ransomware couldn't get any worse?)
Appearing in February 2017 was Data Protection: Ensuring Data Availability. Yes, that's right, I'm calling the release of my second book on data protection as a big event in the realm of data storage protection in 2017. Why? This is a topic which is insanely critical to business success. If you don't have a good data protection process and strategy within your business, you could literally lose everything that defines the operational existence of your business. There's three defining aspects I see in data protection considerations now:
Data is still growing
Product capability is still expanding to meet that growth
Too many businesses see data protection as a series of silos, unconnected – storage, virtualisation, databases, backup, cloud, etc. (Hint: They're all connected.)
So on that basis, I do think a new book whose focus is to give a complete picture of the data storage protection landscape is important to anyone working in infrastructure.
And on the topic of stripping the silos away from data protection, 2017 well and truly saw DellEMC cement its lead in what I refer to as convergent data protection. That's the notion of combining data protection techniques from across the continuum to provide new methods of ensuring SLAs are met, impact is eliminated, and data hops are minimised. ProtectPoint was first introduced to the world in 2015, and has evolved considerably since then. ProtectPoint allows primary storage arrays to integrate with data protection storage (e.g., VMAX3 to Data Domain) so that those really huge databases (think 10TB as a typical starting point) can have instantaneous, incremental-forever backups performed – all application integrated, but no impact on the database server itself. ProtectPoint though was just the starting position. In 2017 we saw the release of Hypervisor Direct, which draws a line in the sand on what Convergent Data Protection should be and do. Hypervisor direct is there for your big, virtualised systems with big databases, eliminating any risk of VM-stun during a backup (an architectural constraint of VMware itself) by integrating RecoverPoint for Virtual Machines with Data Domain Boost, all while still being fully application integrated. (Mark my words – hypervisor direct is a game changer.)
Ironically, in a world where target-based deduplication should be a "last resort", we saw tech journalists get irrationally excited about a company heavy on marketing but light on functionality promote their exclusively target-deduplication data protection technology as somehow novel or innovative. Apparently, combining target based deduplication and needing to scale to potentially hundreds of 10Gbit ethernet ports is both! (In the same way that releasing a 3-wheeled Toyota Corolla for use by the trucking industry would be both 'novel' and 'innovative'.)
Between VMworld and DellEMC World, there were some huge new releases by DellEMC this year though, by comparison. The Integrated Data Protection Appliance (IDPA) was announced at DellEMC world. IDPA is a hyperconverged backup environment – you get delivered to your datacentre a combined unit with data protection storage, control, reporting, monitoring, search and analytics that can be stood up and ready to start protecting your workloads in just a few hours. As part of the support programme you don't have to worry about upgrades – it's done as an atomic function of the system. And there's no need to worry about software licensing vs hardware capacity: it's all handled as a single, atomic function, too. For sure, you can still build your own backup systems, and many people will – but for businesses who want to hit the ground running in a new office or datacentre, or maybe replace some legacy three-tier backup architecture that's limping along and costing hundreds of thousands a year just in servicing media servers (AKA "data funnel$"), IDPA is an ideal fit.
At DellEMC World, VMware running in AWS was announced – imagine that, just seamlessly moving virtual machines from your on-premises environment out to the world's biggest public cloud as a simple operation, and managing the two seamlessly. That became a reality later in the year, and NetWorker and Avamar were the first products to support actual hypervisor level backup of VMware virtual machines running in a public cloud.
Thinking about public cloud, Data Domain Virtual Edition (DDVE) became available in both the Azure and AWS marketplaces for easy deployment. Just spin up a machine and get started with your protection. That being said, if you're wanting to deploy backup in public cloud, make sure you check out my two-part article on why Architecture Matters: Part 1, and Part 2.
And still thinking about cloud – this time specifically about cloud object storage, you'll want to remember the difference between Cloud Boost and Cloud Tier. Both can deliver exceptional capabilities to your backup environment, but they have different use cases. That's something I covered off in this article.
There were some great announcements at re:Invent, AWS's yearly conference, as well. Cloud Snapshot Manager was released, providing enterprise grade control over AWS snapshot policies. (Check out what I had to say about CSM here.) Also released in 2017 was DellEMC's Data Domain Cloud Disaster Recovery, something I need to blog about ASAP in 2018 – that's where you can actually have your on-premises virtual machine backups replicated out into a public cloud and instantiate them as a DR copy with minimal resources running in the cloud (e.g., no in-Cloud DDVE required).
2017 also saw the release of Enterprise Copy Data Analytics – imagine having a single portal that tracks your Data Domain fleet world wide, and provides predictive analysis to you about system health, capacity trending and insights into how your business is going with data protection. That's what eCDA is.
NetWorker 9.2 and 9.2.1 came out as well during 2017 – that saw functionality such as integration with Data Domain Retention Lock, database integrated virtual machine image level backups, enhancements to the REST API, and a raft of other updates. Tighter integration with vRealize Automation, support for VMware image level backup in AWS, optimised object storage functionality and improved directives – the list goes on and on.
I'd be remiss if I didn't mention a little bit of politics before I wrap up. Australia got marriage equality – I, myself, am finally now blessed with the challenge of working out how to plan a wedding (my boyfriend and I are intending to marry on our 22nd anniversary in late 2018 – assuming we can agree on wedding rings, of course), and more broadly, politics again around the world managed to remind us of the truth to that saying by the French Philosopher, Albert Camus: "A man without ethics is a wild beast loosed upon this world." (OK, I might be having a pointed glance at Donald Trump over in America when I say that, but it's still a pertinent thing to keep in mind across the political and geographic spectrums.)
2017 wasn't just about introducing converged data protection appliances and convergent data protection, but it was also a year where more businesses started to look at hyperconverged administration teams as well. That's a topic that will only get bigger in 2018.
The DellEMC data protection family got a lot of updates across the board that I haven't had time to cover this year – Avamar 7.5, Boost for Enterprise Applications 4.5, Enterprise Copy Data Management (eCDM) 2, and DDOS 6.1! Now that I sit back and think about it, my January could be very busy just catching up on things I haven't had a chance to blog about this year.
I saw some great success stories with NetWorker in 2017, something I hope to cover in more detail into 2018 and beyond. You can see some examples of great success stories here.
I also started my next pet project – reviewing ethical considerations in technology. It's certainly not going to be just about backup. You'll see the start of the project over at Fools Rush In.
And that's where I'm going to leave 2017. It's been a big year and I hope, for all of you, a successful year. 2018, I believe, will be even bigger again.