At VMworld, DellEMC announced a new backup technology for virtual machines called Hypervisor Direct, which represents a paradigm that I'd refer to as "convergent data protection", since it mixes layers of data protection to deliver optimal results.
First, I want to get this out of the way: hypervisor direct is not a NetWorker plugin, nor an Avamar plugin. Instead, it's part of the broader Data Protection Suite package (a good reminder that there are great benefits in the DPS licensing model).
As its name suggests, hypervisor direct is about moving hypervisor backups directly onto protection storage without a primary backup package being involved. This fits under the same model available for Boost Plugins for Databases – centralised protection storage with decentralised access allowing subject matter experts (e.g., database and application administrators) to be in control of their backup processes.
Now, VMware backups are great, but there's a catch. If you integrate with VMware's snapshot layer, there's always a risk of virtual machine stun. The 'stun', we refer to there, happens when logged data to the snapshot delta logs are applied to the virtual machine once the snapshot is released. (Hint: if someone tries to tell you otherwise, make like Dorothy in Wizard of Oz and look behind the curtain, because there's no wizard there.) Within NetWorker and Avamar, we reduce the risk of virtual machine stun significantly by doing optimised backups:
Leveraging changed block tracking to only need to access the parts of the virtual machine that have changed since the last backup
Using source based deduplication to minimise the amount of data that needs to be sent to protection storage
Those two techniques combined will allow you seamless virtual machine backups in almost all situations – in fact, 90% or more. But, as the old saying goes (I may be making this saying up, bear with me) – it's that last 10% that'll really hurt you. In fact, there's two scenarios that'll cause virtual machine stun:
Inadequate storage performance
High virtual machine change rates
In the case of the first scenario, it's possible to run virtual machines on storage that doesn't meet their performance requirements. This is particularly so when people are pointing older or under-spec NAS appliances at their virtual machine farm. Now, that may not have a significant impact on day to day operations (other than a bit of user grumbling), but it will be noticed during the snapshot processes around virtual machine backup. Ideally, we want to avoid the first scenario by always having appropriately performing storage for a virtual infrastructure.
Now, the second scenario, that's more interesting. That's the "10% that'll really hurt you". That's where a virtualised Oracle or SQL database is 5-10TB with a 40-50% daily change rate. That size, and that change rate will smash you into virtual machine stun territory every time.
Traditionally, the way around that has been one or two (or both) data protection strategies:
LUN or array based replication, ignoring the virtual machine layer entirely. That's good for a secondary copy but it's going to be at best crash consistent. (It's also going to be entirely storage dependent – locking you into a vendor and making refreshes more expensive/complex – and will lock you out of technology like vVOL and vSAN.)
In-guest agents. That'll give you your backup, but it'll be at agent-based performance levels creating additional workload stresses on the virtual machine and the ESX environment. And if we're talking a multi-TB database with a high change rate – well, that's not necessarily a good thing to do.
So what's the way around it? How can you protect those sorts of environments without locking yourself into a storage platform, or preventing yourself from making architectural changes to your overall environment?
You get around it by being a vendor that has a complete continuum of data protection products and creating a convergent data protection solution. That's what hypervisor direct does.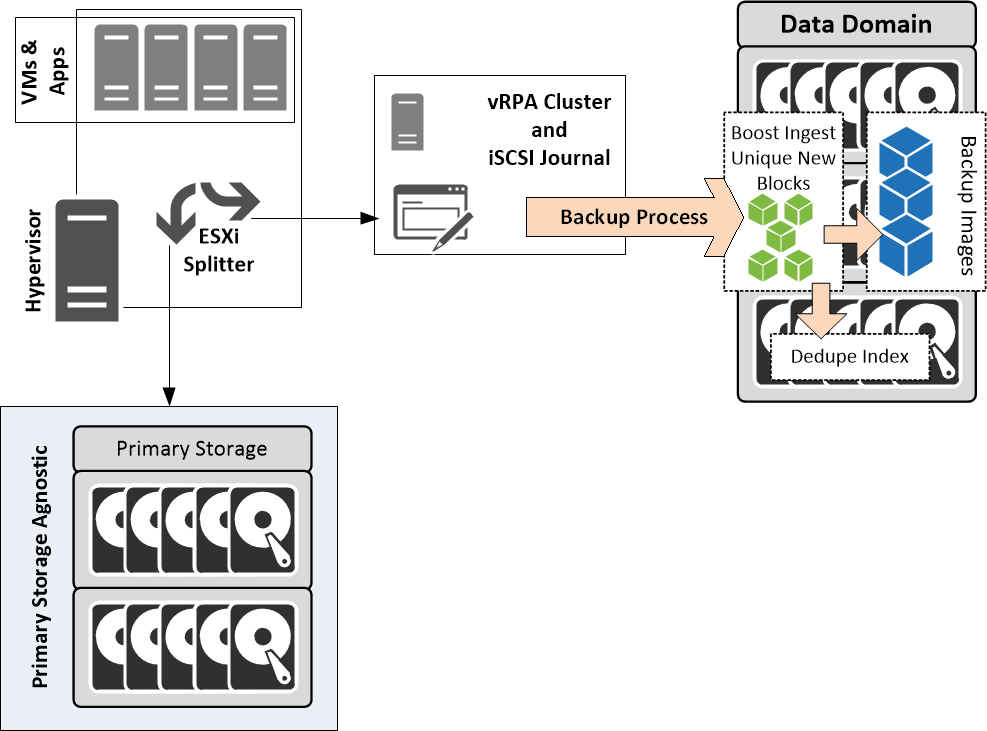 Hypervisor direct merges the Boost-direct technology you get in DDBEA and ProtectPoint with RecoverPoint for Virtual Machines (RP4VM). By integrating the backup process in via the Continuous Data Protection (CDP) functionality of RP4VM, we don't need to take snapshots using VMware at all. That's right, you can't get virtual machine stun even in large virtual machines with high IO because we don't work at that layer. Instead, leveraging the ESXi write splitter technology in RP4VM's CDP, the RecoverPoint journal system is used to allow a virtual machine backup to be taken, direct to Data Domain, without impact to the source virtual machine.
Do you want to know the really cool feature of this? It's application consistent, too. That 5-10TB Oracle or SQL database with a high change rate I was talking about earlier? Well, your DBA or Application Administrator gets to run their normal Oracle RMAN backup script for a standard backup, and everything is done at the back-end. That's right, the Oracle backup or SQL backup (or a host of other databases) triggers the appropriate virtual machine copy functions automatically. (And if a particular database isn't integrated, there's still filesystem integration hooks to allow a two-step process.)
This isn't an incremental improvement to backup options, this is an absolute leapfrog – it's about enabling efficient, high performance backups in situations where previously there was no actual option available. And it still lets your subject matter experts be involved in the backup process as well.
If you do have virtual machines that fall into this category, reach out to your local DellEMC DPS team for more details. You can also check out some of the official details here.